Rainer Radow's Projects
Pardon - I have not translated that much content to English for now - please enjoy the pictures and videos!
Wooden Drone - 2013
From drone fever packed, I report here from my DIY wood drone. In September 2013, my Arducopter board arrived from China. After a brief introduction to the subject of quadrocopters, I was able to start my first homemade "Drone" made of wood in October 2013. It`s great what you can do today with the knowledge and help of the many open source developers that can be reached over the internet in no time.
Flashing the remote control
My Chinese Turnigy remote control was delivered with a very confusing menu navigation. On the internet, I found a clever DIY solution. Since a program update is not planned for this device, I had to tap the SPI interface of the ATMEL chip directly on the board with a soldering iron.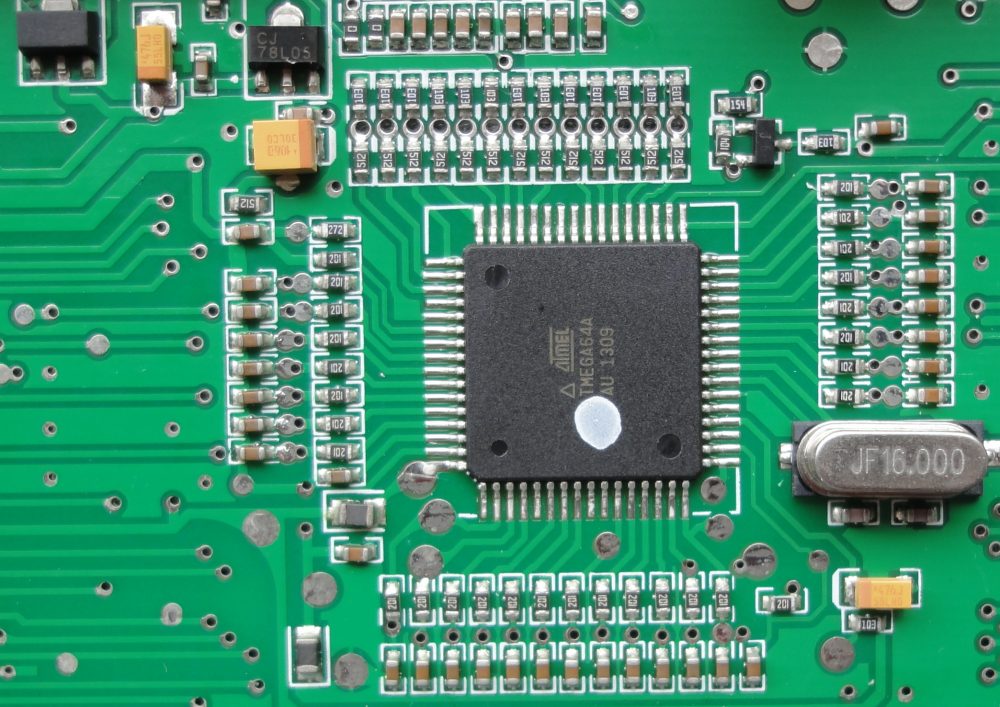 Flashen der Fernsteuerung mit neuer Menüführung (Radow © 2013-09-23)
An der Hardware mussten dann noch die Widerstände des Spannungsteilers angepasst werden. Hier noch vor der Anpassung: Das Fernsteuerdisplay zeigt noch 6,2 Volt obwohl der Akku nur noch 4,5 Volt hat: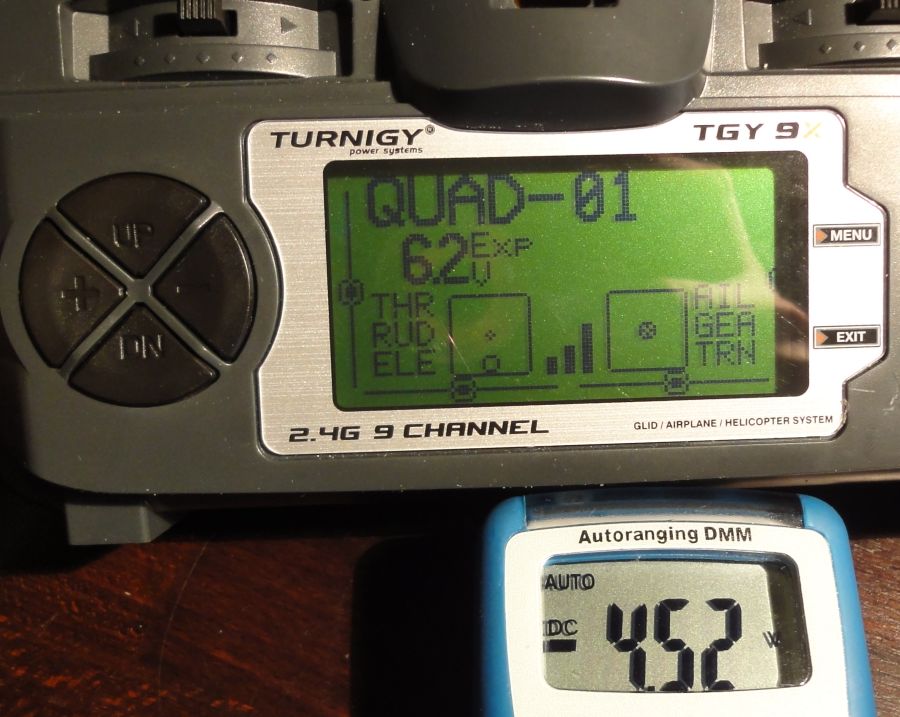 Spannungsteiler noch nicht angepasst (Radow © 2013-09-23)
Um nicht immer eine Hand voll AA-Zellen laden und warten zu müssen, habe ich das Batteriefach für einen handelsüblicher Lipo-Akku erweitert.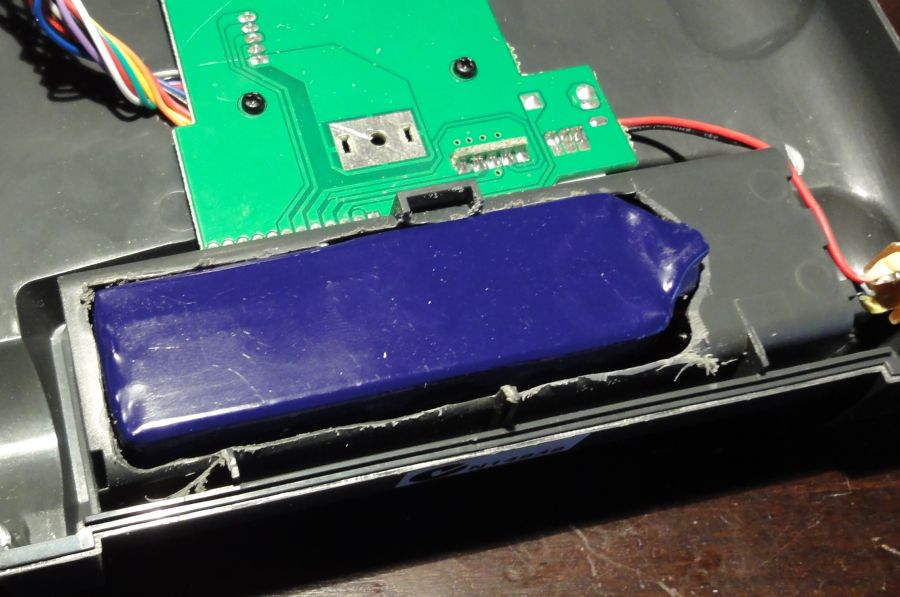 Etwas Heißkleber - und es passt... (Radow © 2013-09-23)
Aufbau
Ca. 1 kg Abfluggewicht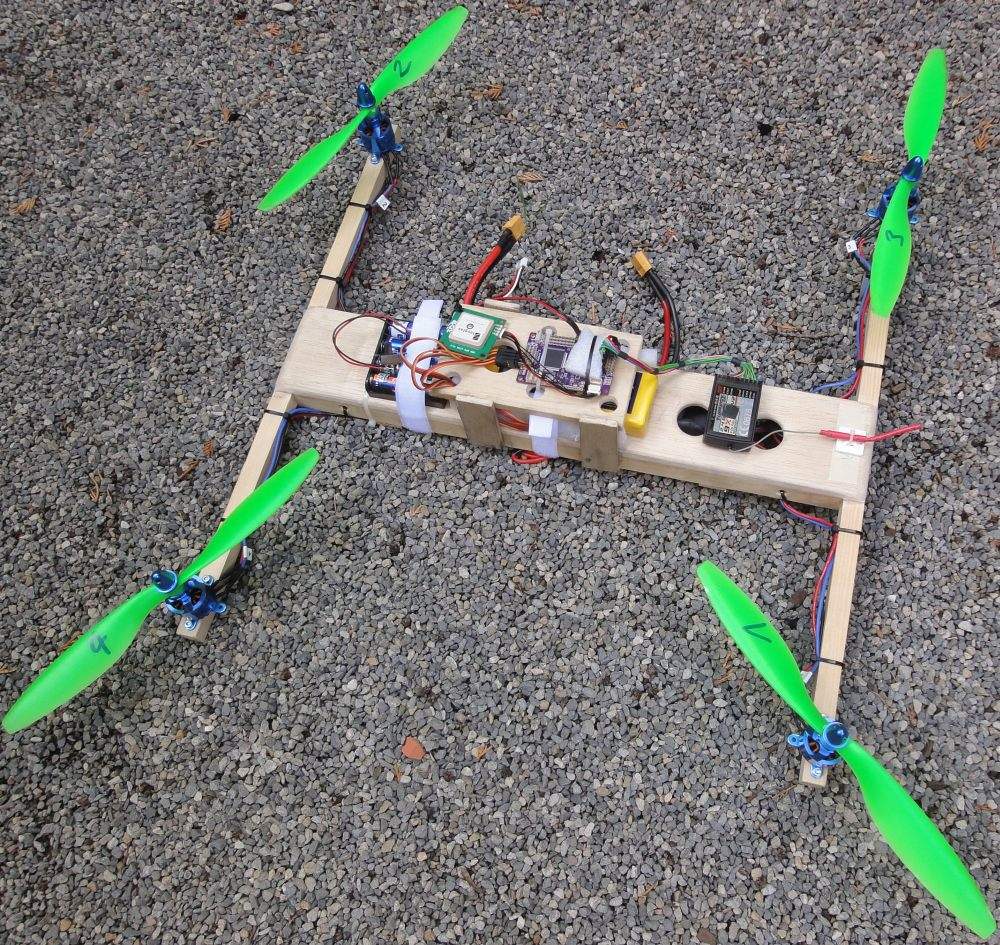 Quadrocopter in leichter Holzbauweise (Radow © 2013-09-15)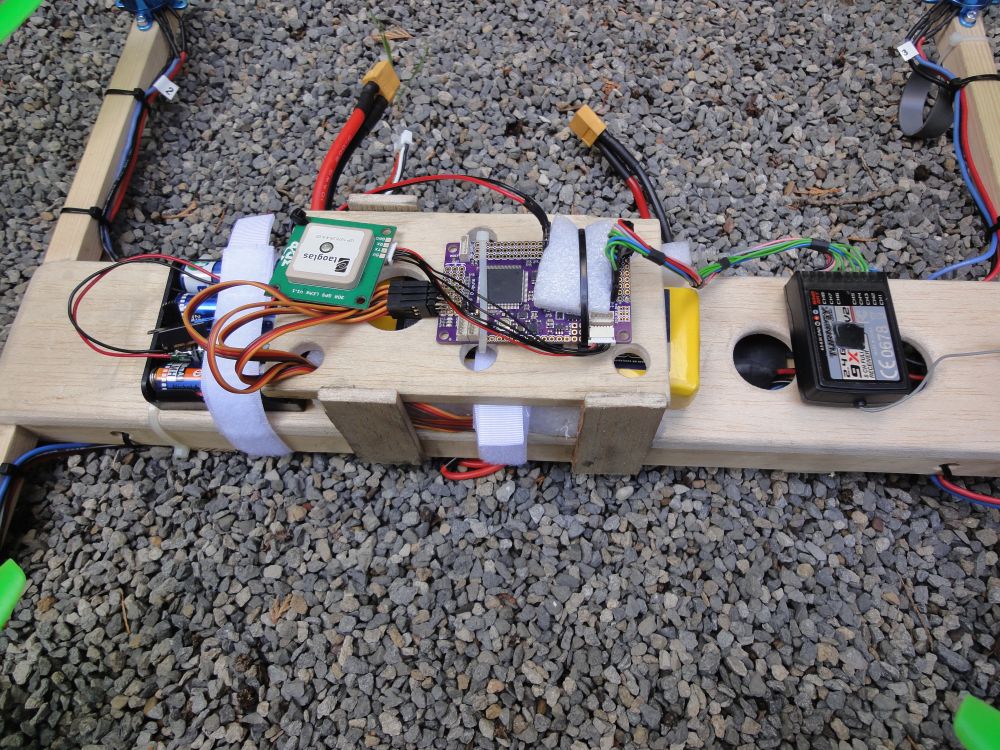 Erste Flüge noch mit "offener" Elektronik. (Radow © 2013-09-15)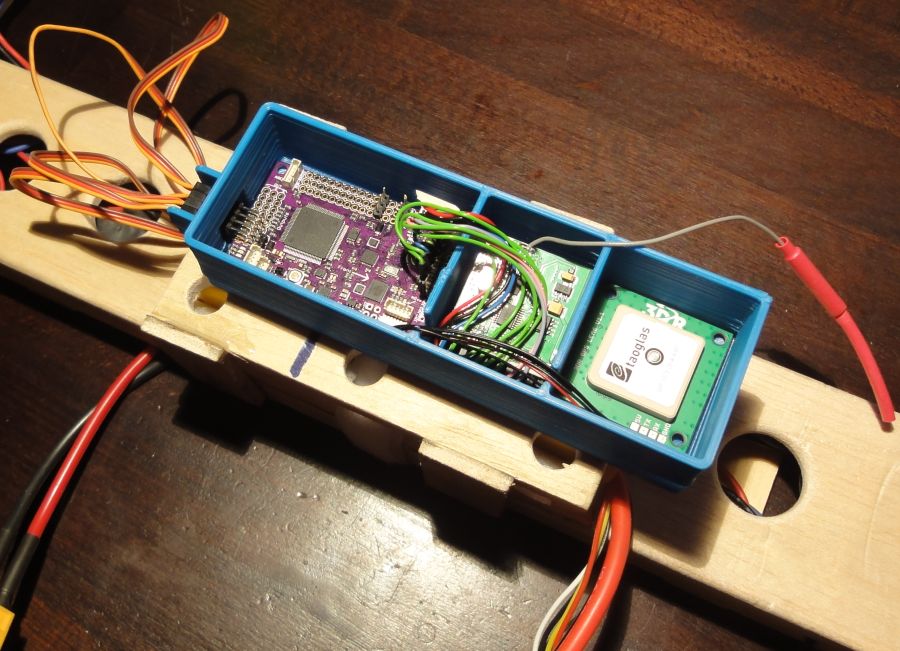 3D-Gedruckter Elektronikträger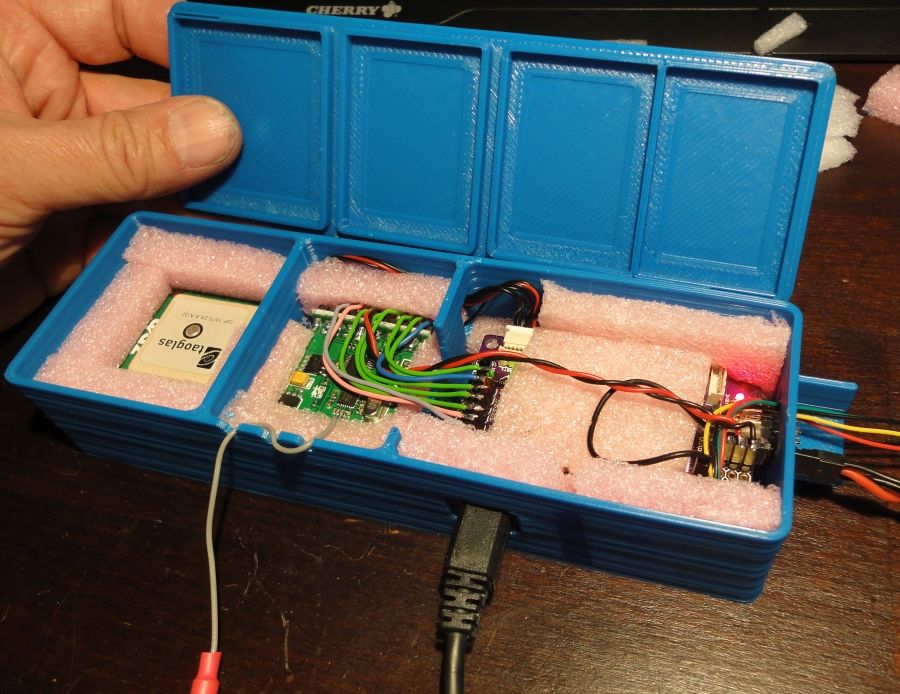 Flugfertig verpackt (Radow © 2013-10-05)
Bruchlandungen
Bei einer "Landung" war der Akku schneller als der Rest des Geräts. Danach habe ich den Akku immer unter die Trägerplatte geschnallt. Mit ein paar tropfen Holzleim konnte es aber gleich am nächsten Tag wieder los gehen.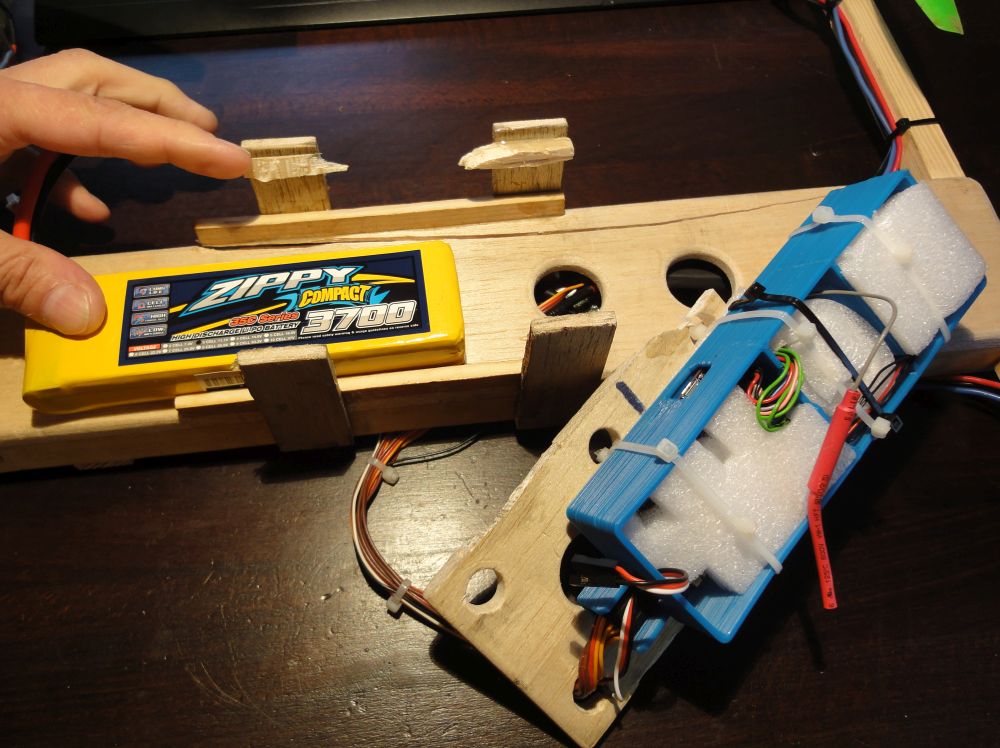 Bei einer harten Landung hat der Akku das leichte Balsaholz durchschlagen.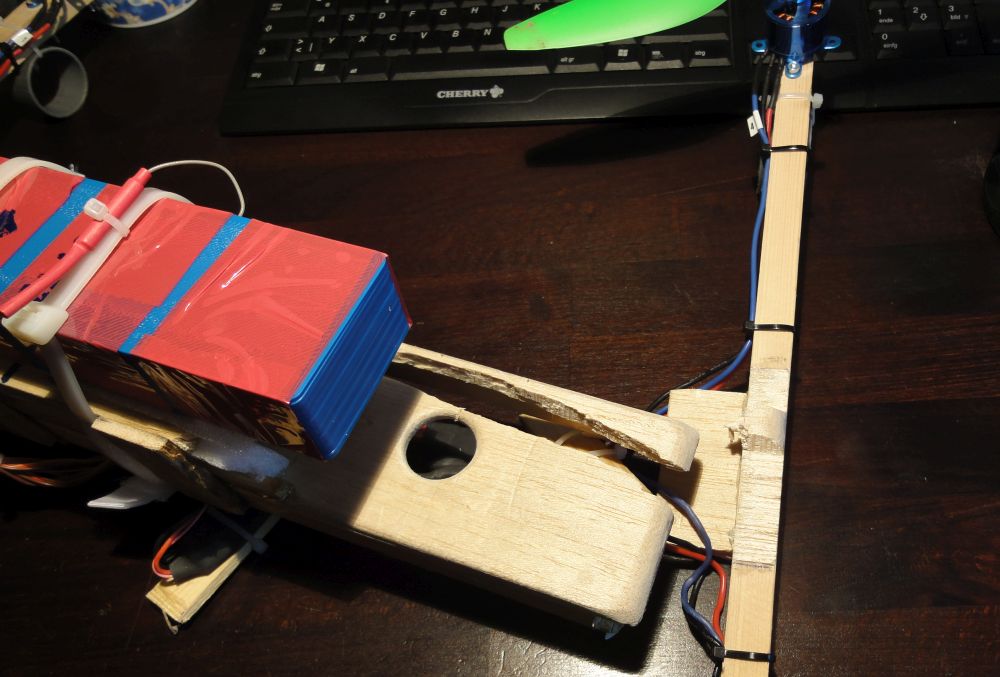 Das Gerät musste diverse Fehlprogrammierungen und Fehlsteuerungen aushalten.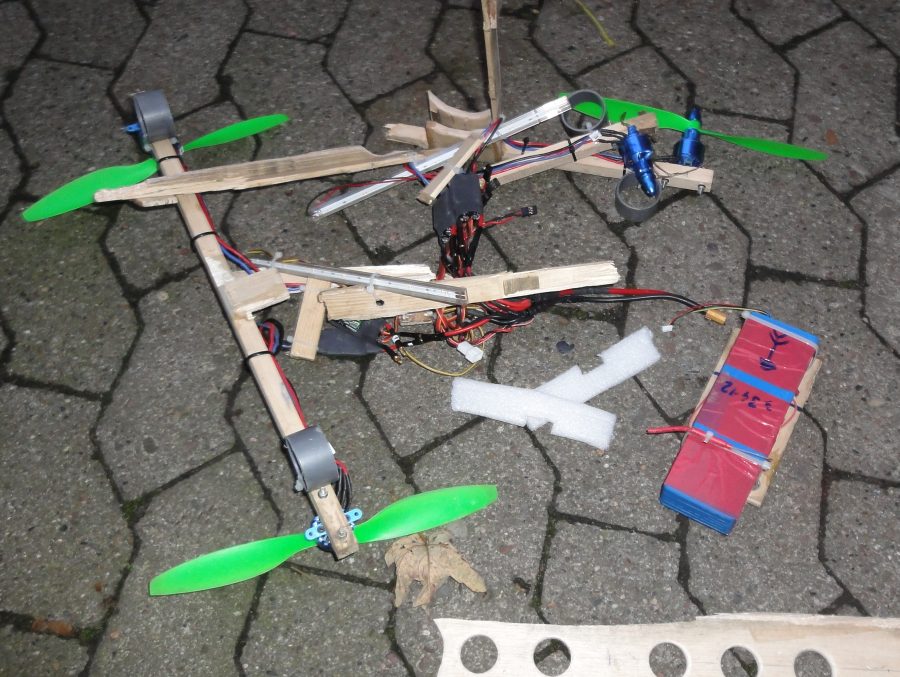 Da half nun auch der große Leimtopf nichts mehr.
Die gesamte Technik war aber intakt geblieben. Ich bin aber auch immer nur über weichen Wiesen geflogen. Wenn man auf solchem Steinpflaster "landen" würde, wäre der Schaden wohl größer ...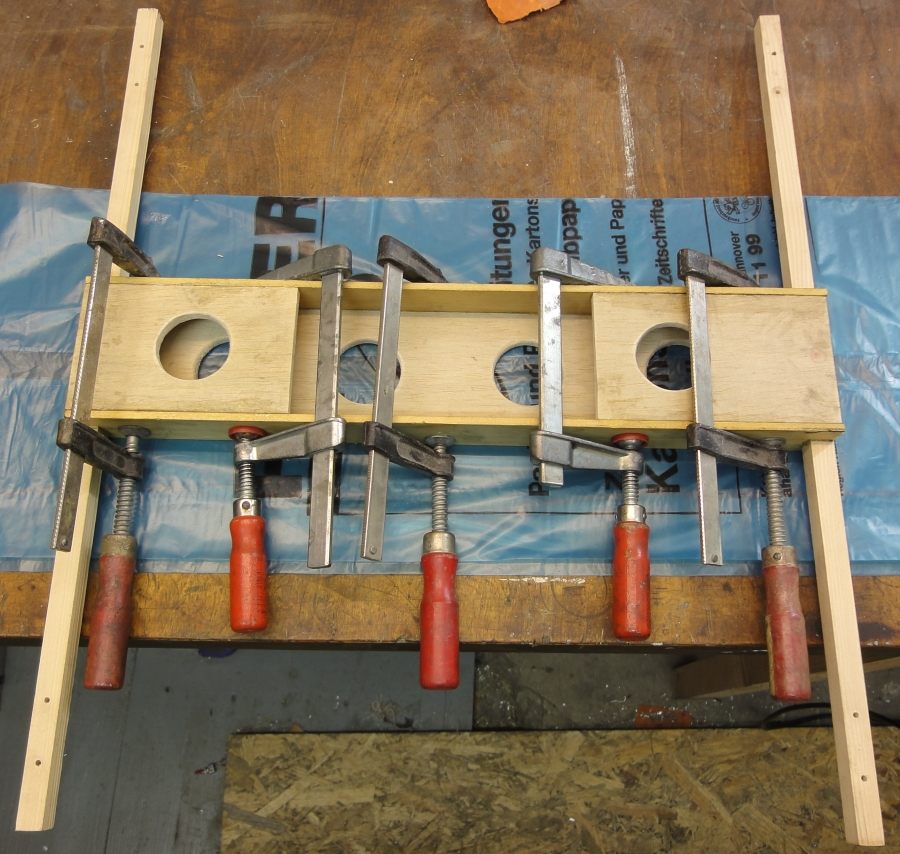 Aufwand für einen Neubau: Holz für 4 Euro plus 2 Stunden Bastelei - ich wusste jetzt ja aber auch wie es geht
Telemetrie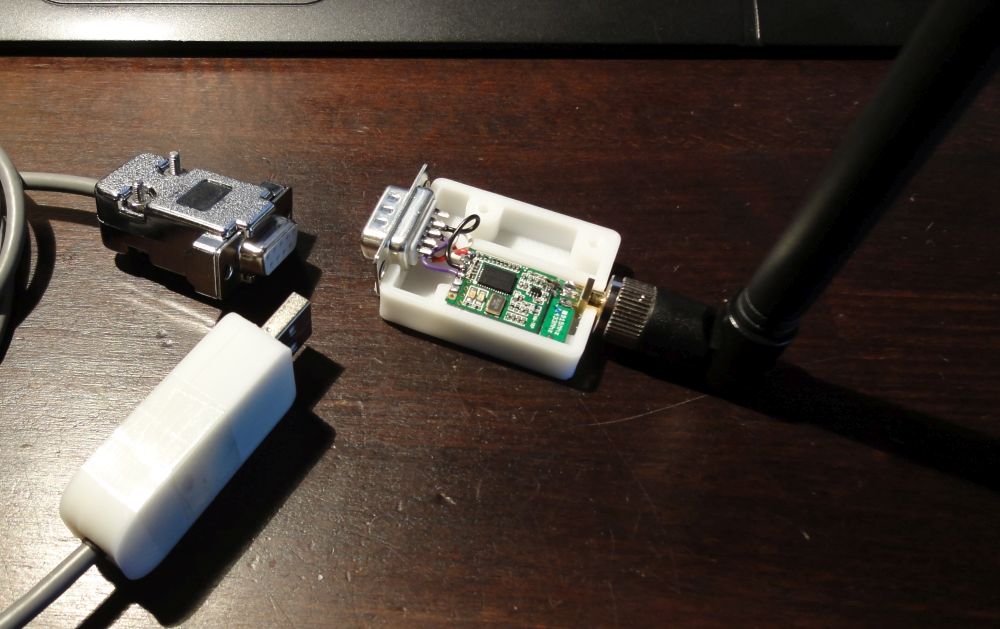 Chinesische Telemetrie-Bodenstation in Deutschem 3D-Druck
Wenn man den Laptop mit auf den Flugplatz nimmt, zeigt einem der "Mission Planer" die Position der Drone per Telemetrie auf dem Google Earth Bild.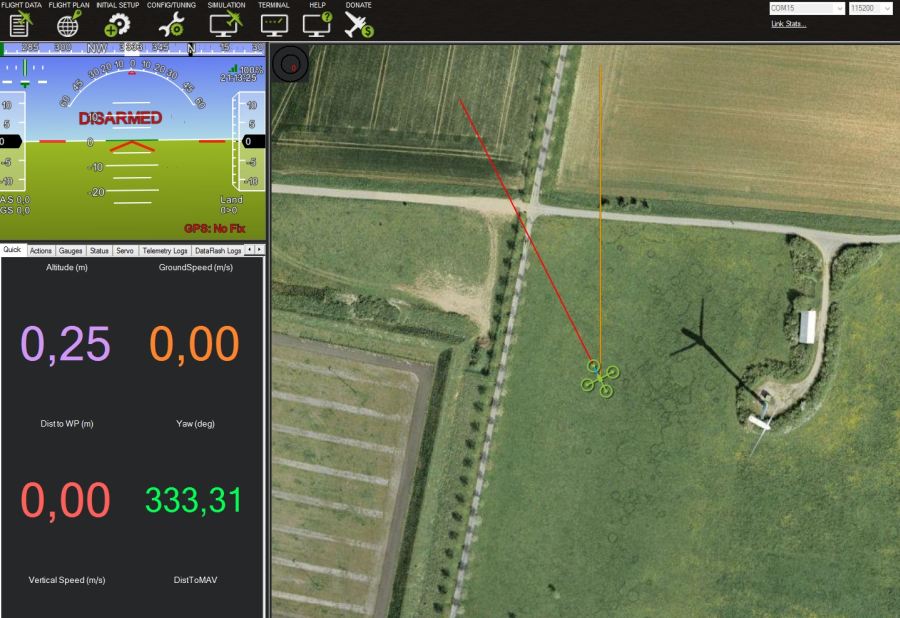 Live Position und Telemetriedaten mit Google Satelitenbild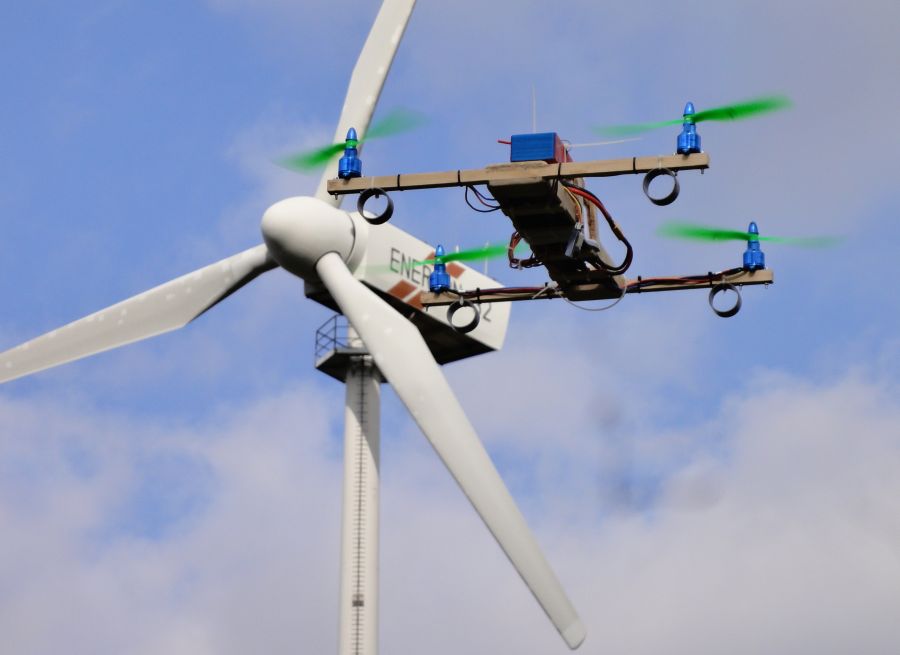 So sah das von meiner Position aus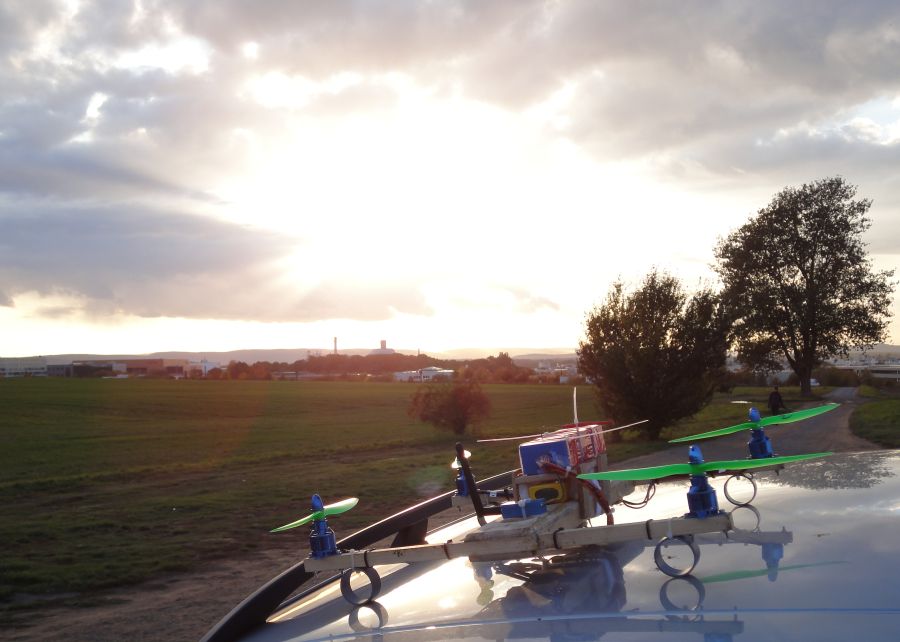 Quadrokopter kehrt unversehr zurück