Rainer Radow's Projects
Pardon - I have not translated that much content to English for now - please enjoy the pictures and videos!
My kit for a 8x7-Dot Matrix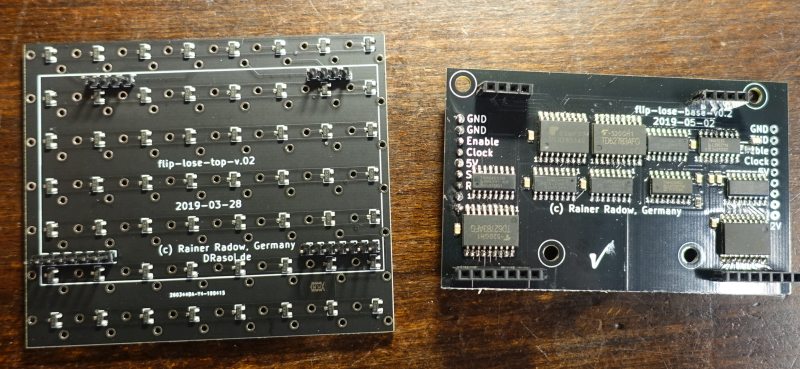 8x7-Dot Modul im Eigenbau. Links: Trägerplatine. Rechts: Leistungsplatine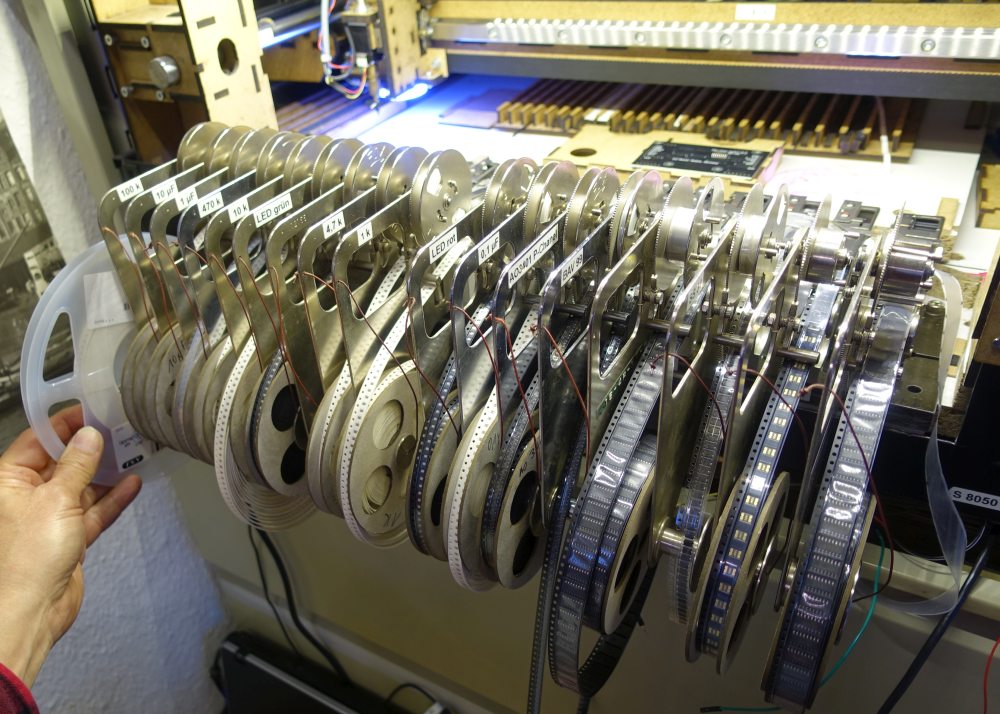 Pick & Place Maschine bei der Bestückung der 8x7-Dot Leistungsplatinen
Assembly of the Flip-Dot modules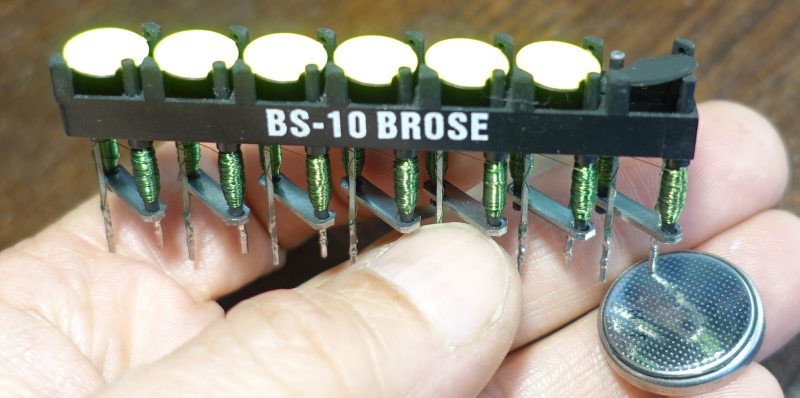 Alle Dots müssen vor dem Verlöten auf Funktion geprüft werden.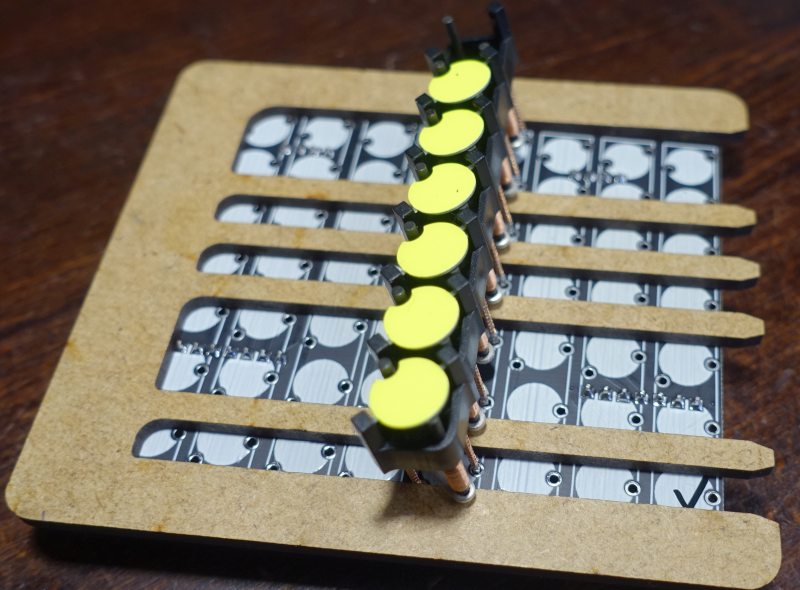 Zur Sicherstellung eines gleichmäßigen Erscheinungsbilds der Dot-Fläche sollte man sich einen Abstandshalter aus dicker Pappe oder Holz schneiden/lasern.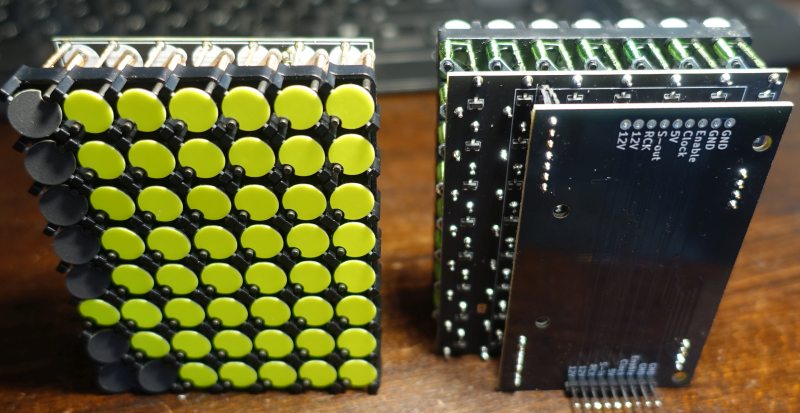 Beim Verlöten der restlichen Pins sollte man zwischendurch lieber einmal mehr schauen, ob noch alles gerade sitzt!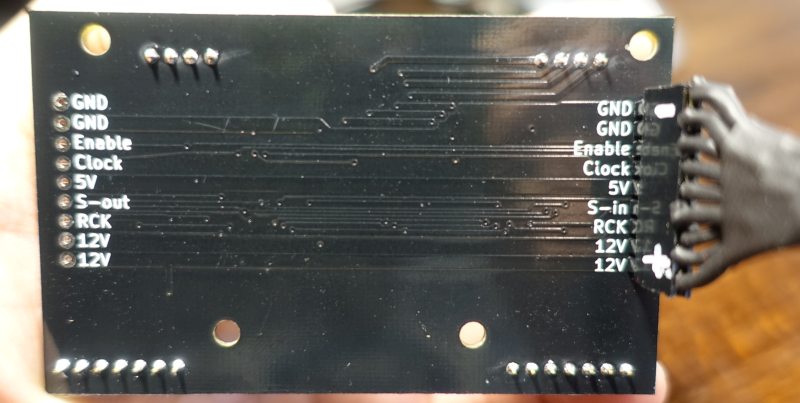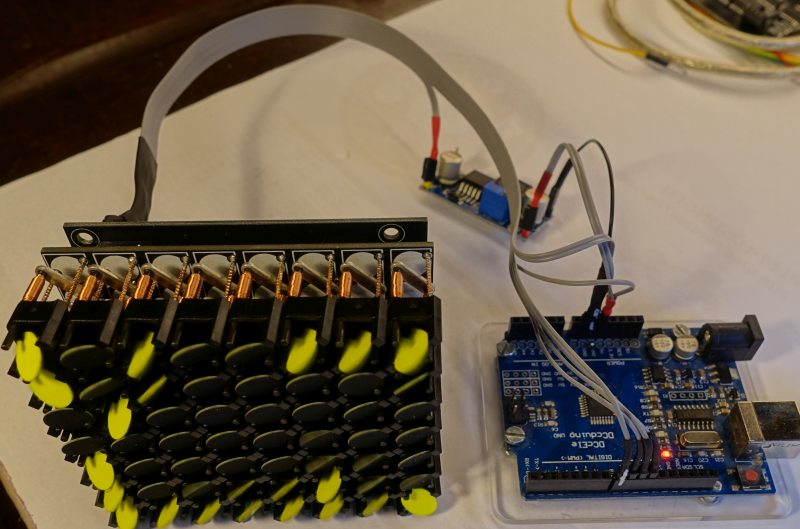 Steuerung per Arduino. Die nötigen 12 Volt Flip-Spannung werden aus den 5 Volt des Arduino per Step-Up erzeugt
// ==================================================
// Feldwerte ergeben sich aus der Verdrahtung auf meiner Flip Dot Platine
// Dot Position x bzw y   1,   2,  3,   4,  5,   6,   7,  8
uint8_t bytex[] =       { 0,  24, 20,   0, 28,  16,  12,  4, 8};
uint8_t bytey[] =       { 0, 160,  0, 224, 32, 192, 128, 64};
#define BYTERESET 1      // wird zum bytey[] hinzugezählt, wenn das Dot schwarz werden soll
#define FLIPDAUER 500

// ==================================================
void dotSet(uint8_t x, uint8_t y){
	digitalWrite(rclPin, LOW);
	shiftOutFast(bytex[x]+bytey[y]);
	digitalWrite(rclPin, HIGH);

	digitalWrite(enablePin, HIGH);
	delayMicroseconds(FLIPDAUER);
	digitalWrite(enablePin, LOW);
}
// ==================================================
void dotReset(uint8_t x, uint8_t y){
	digitalWrite(rclPin, LOW);
	shiftOutFast(bytex[x]+bytey[y]+BYTERESET);
	digitalWrite(rclPin, HIGH);

	digitalWrite(enablePin, HIGH);
	delayMicroseconds(FLIPDAUER);
	digitalWrite(enablePin, LOW);
}
// ==================================================

Funktionstest eine 8x7 Moduls mit Dot Durchmesser 10 mm